Celebrating Our First 100 Years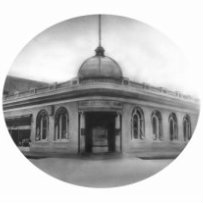 Today more than ever, people are seeking peace of mind and trust, particularly when it comes to their financial institution. For over 105 years, First Northern Bank has been a pillar of strength in the communities we serve. Since our inception, we have successfully navigated all 12 of our nation's documented economic recessions, as well as The Great Depression. We believe it's this experience that differentiates First Northern Bank from so many banks, credit unions, and brokerage houses.
First Northern continues to thrive as one of the oldest independent community banks in the greater Sacramento region. Our goals and objectives are not driven by Wall Street. We focus on the local economy rather than reaching into unfamiliar markets. Our First Northern offices consist of 9 full service branches throughout Solano, Yolo, Sacramento, and Placer counties, a satellite branch in a retirement community in Davis, a Mortgage Loan office, two Investment & Brokerage Services offices, an Asset Management & Trust Department, and a Commercial Loan Office in Contra Costa County.
Our Bank's Core Values are paramount in every decision we make:
People First

Absolute Integrity

Zest for Excellence
Our unwavering commitment to these Values has helped fuel our history of continuous growth and expansion of our services and market areas. We are proud of our past and we are excited about our future.
Other key factors that differentiate First Northern Bank include:
First Northern Bank utilizes new technology to make banking faster, more convenient, mobile, and secure.

First Northern Bank adheres to a Policy of Independence. While other banks have come and gone over the years, First Northern Bank remains steadfast in its commitment to remaining independent so it can set its own course and make decisions at the local level.

First Northern Bank is known for reinvesting in the communities it serves. Through volunteerism, monetary and in-kind contributions, and grant assistance, First Northern Bank is there for the community.

First Northern Bank's customer deposit base is broad and resilient. We serve a wide range of consumers and business markets throughout the local region.

First Northern Bank hires only the best people, and they stay at the top of their game through ongoing technical and customer service training. We have created a culture that truly motivates employees to perform as if their name was on the door. Currently, almost 90% of our full-time employees own Company stock, so chances are our customers are being served by an owner of the Bank.

First Northern Bank has made it a priority to do its part to adopt green initiatives to help preserve our Earth's natural resources. Hybrid vehicles have been used in the Bank's fleet of courier cars since 2005. And in 2008, the Bank installed rooftop solar systems on all buildings owned by the Bank.
First Northern Bank is proud to be a well-capitalized, well-managed financial institution that continues to grow and provide safe and secure banking for our customers. During these challenging economic times, the Bank has never wavered from its adherence to the core principles that have guided its growth and sustained its strength in the marketplace for over 105 years. We remain focused on: strong liquidity, disciplined underwriting standards, a consistent and conservative credit philosophy, having knowledgeable and experienced staff, and delivering superior customer service.
We are steadfastly committed to our role in the community--we look forward to continuing our 105-year tradition of forging long-lasting relationships and providing honest guidance and financial services to area businesses and residents.