Community Reinvestment Act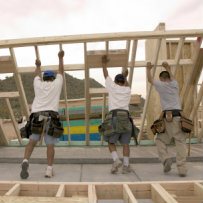 The Community Reinvestment Act (CRA) was enacted in 1977. The legislative intent behind the Act was to encourage an insured depository institution to meet the credit needs of its entire community, including consumer and commercial credit needs, with a special emphasis on real estate lending activities and the needs of low and moderate income (LMI) neighborhoods, consistent with the safe and sound operation of the institution.
First Northern Bank strongly supports, and hereby reaffirms, the goal of meeting the credit needs of the communities it serves, including LMI neighborhoods. CRA is an integral component of the Bank's planning process and sound business practices.
First Northern Bank believes that helping its neighbors build a better way of life through its loan and deposit services is simply good business. The Bank is proud of the fact that its lending programs, deposit and savings products, and other financial services have enabled its neighbors to purchase businesses, build financial security and enjoy their retirement years.
Areas of focus under the Community Reinvestment Act:
Economic Development

Affordable Housing

Small Business

Community Services targeted to low- and moderate-income individuals*
CRA Performance Evaluation - January 12, 2015
CRA Performance Evaluation - November 21, 2011
CRA Performance Evaluation - May 27, 2008