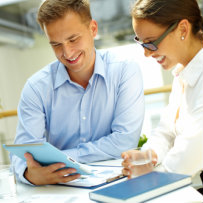 Cash Management Services
First Northern Bank's Cash Management Services enable our business customers to use a state-of-the-art online banking system to manage funds in all their accounts 24-hours a day, with the ultimate in security, ease, and convenience.
There's no software to download or purchase. User control features allow control of multiple accounts securely, assigning rights to draft and authorize all features as well as set limits on amounts for each individual user and function.
Summary

View Summary and Details: view daily presentments, ledger balances, hold amounts, available balances, running balances, etc.
View History: view previous account activity and statements.
View Postings: view and filter Cash Management transactions by user or type, such as bill payment, wire transfer, etc.
Export Data: export account information to use with accounting software.
Activity Reports: reporting features for monitoring purposes.
Account Reconciliation: automatically compares data from the system to your own financial data

Payment & Collection

Wire Transfers: conduct secure wire transfer requests via the Internet and send e-mail notifications to the recipients.
EFTPS Tax Payments: pay taxes via the Internet with multiple tax ID flexibility
Payroll/Direct Deposit: allows direct deposit of payroll checks to employees' accounts.
ACH Origination: electronically send debits and credits, as well as e-mail notifications to the recipients.
Pay Bills: pay all bills over the Internet.
Electronic Lock Box: process a high volume of accounts receivables electronically. And, with Lock Box, you'll receive detailed statements electronically on the same day deposits are processed!

Other Services

Submit a change of address request
Request stop payment
Order currency in various denominations
Transfers between First Northern accounts
Email notifications when balance goes above or falls below the amount specified

Security

State-of-the-art routers and firewalls
Data encryption using Secure Sockets Layer (SSL) and digital identification certificates
Alphanumeric passwords with forced uniqueness and aging
Automatic lockout after unsuccessful login attempts
Automatic session time-out