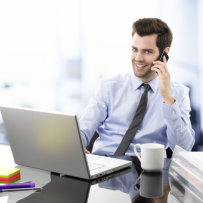 Positive Pay
Check Positive Pay and ACH Positive Pay from First Northern Bank allow you to protect your account from unauthorized transactions and simplify your monthly reconciliation. With Positive Pay, you can take control of your business banking account and monitor checks and ACH debits presented for potential fraud.
Benefits of Positive Pay

Get peace of mind knowing your business is protected from check and ACH fraud with one of the most effective anti-fraud tools available.
Reduce exposure to check and ACH fraud.
Stop loss of funds.
Block unauthorized checks and debits from posting to your account.

How does it work?

Check Positive Pay

At the end of each business day, your company electronically submits an issued check file to the secure website.
Each night after posting the incoming checks, First Northern Bank compares the checks against your issued check file.
If a check is found that does not match the issued check information or has already been marked as "paid," it will be listed on an "exception report."
The Bank will notify you via email that you have an exception item to review. Let us know if any of these items are fraudulent or inaccurate, and we will quickly correct or return the checks to the bank of first deposit.




ACH Positive Pay

For ACH debits and credits, your business creates and manages an approved vendor list.
If an ACH transaction received is not on the approved vendor list, First Northern Bank will notify you in the form of an email.
Upon receipt of the email, simply login to ACH Positive Pay to accept or reject the item.