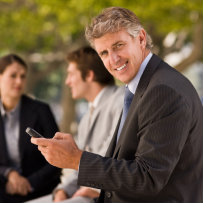 Remote Deposit Capture
Deposit checks electronically from your desktop. Deposit Capture utilizes a desktop scanner that connects to your PC and the internet. With it, you can scan checks received from customers and issue deposits electronically to the bank, anytime day or night. It's the quickest way to make deposits, is more secure, and reduces the risk of check fraud.
Summary

Make deposits 24/7, even on weekends*
Save time preparing deposits
Reduce labor costs and free up staff
Cut courier fees or trips to the bank
Checks clear faster
Reduce risk of check fraud
Multiple layers of security**
Streamline cash flow from multiple locations

*Account is credited on the day submitted up until 6:00pm on bank business days. After hour and weekend deposits will post the next business day.

**Including password protection, internet firewalls, and 128-bit encryption, the highest level of security available.

Instructions

What You Need

Remote Deposit Capture is easy to set up and use. All you need are the following items:

PC with a current version of Windows 7 (32-bit version), Vista, or 2000
Internet Explorer web browser
Desktop check scanner and software
A high speed internet connection
An account with First Northern Bank

How Deposit Capture Works

1. Scan checks from any desktop.

Using a desktop scanner, simply scan both sides of the checks in a single pass.

2. Prepare the deposit.

View images of the scanned checks right from your PC. The dollar amounts for the checks are automatically read and the deposit is totaled.

3. Electronically send deposit to the bank.

Click SUBMIT DEPOSIT. The deposit is sent to the bank through a secure Internet connection.

4. Funds are deposited into your account.

Same day credit up until 6:00pm any bank business day.