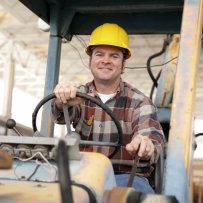 Non-Revolving Line to Term Loan
This lending option can keep your business ready for future equipment needs and expansion opportunities. Gain approval now, so when the need arises there is no delay. Only begin paying interest once you access the loan.
Our variable interest rate is competitive, our terms are flexible, and our personalized service is unsurpassed. Best of all, our streamlined application process and local decision-making guarantees a quick response.
Summary

For loans from $50,000 to $300,000, contact us or download an application.
For loans over $300,000, contact us.
Interest only for 12 months
Terms up to 60 months
½% origination fee
Variable rate, based on First Northern Bank's Commercial Base Rate
Local decisions
Quick approvals
Knowledgeable loan officers
Personal attention
Easy to apply

Streamlined Process

The world isn't slowing down. You know it and First Northern Bank knows it. If you want your business to keep up, you need answers quickly. First Northern Bank understands that.

Our lending process requires less paperwork and quicker solutions. Applying for loans of $50,000 or less requires a simple application. Applying for larger loans (up to $300,000) will require two years of financial information to be provided as well. Throughout every step, your First Northern Bank lending professional will be by your side.