Asset Management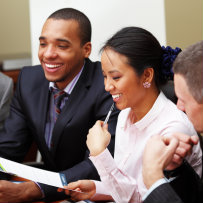 Individuals who may find it helpful to open an investment management account with us include:
Those who have recently sold businesses or properties.

Professionals and business managers whose careers leave no time to follow investment markets and trends.

Retirees and those about to retire.

Those who find themselves with large sums to invest from legal settlements, inheritances or insurance payouts.
If your own financial future will depend largely on the success of your personal investments, you too may wish to take advantage of our services.
Special Handling for your Investments
Some people think of investing as a game. They "play the market." And more often than not, they lose. In reality, investing is serious business, requiring time and study, patience and vigilance. That's why we have developed our investment management service.
Successful Investing
Although investment results never can be guaranteed, we believe our clients will benefit from the application of these principles:
Success Favors the Long-Term Investor
The probable results of various investment approaches over long periods are fairly predictable. They can be estimated and compared, along with the probable risks involved.
By contrast, short-term results--how stocks or bonds will perform over the next six months, even the next year--appear to be virtually impossible to predict. Plenty of "experts" guess right once; few guess right two or three times in a row.
Whether your primary goal is to build wealth or to enjoy a steady income that keeps pace with the cost of living, we believe a long-term approach is essential.
Choosing the Right Asset Mix is Critical
How much of your money should be in stocks--and in which types of stocks? How much should be in bonds? How much should be set aside as a stable, interest-earning reserve? Deciding on the right investment mix and sticking to it (until your goals or circumstances change significantly) is a major step toward investment success.
Serious Investment Programs Need to be Custom Tailored
Books are full of generalized advice on how to invest when you reach the age of 35, are approaching retirement, or have already retired. Substantial investors are seldom comfortable with these off-the-rack formulas, and for good reason.
The right investment strategy for you will depend on your unique personal circumstances. If your investment program is not tailored to your needs, you won't be happy with it--and therefore, it probably won't succeed.
Expecting a Big Retirement-Plan Payout?
If you're about to change jobs or retire, you may be due to receive a small fortune in retirement money from a 401(k) plan, profit sharing plan, or other tax-deferred retirement plans. Ask us about a direct rollover into an IRA.
By having your lump sum transferred directly to an Individual Retirement Account, you can have us invest the entire payout for you, undiminished by current income tax or a possible 10% penalty tax.
Caution: If you do not arrange in advance for a direct rollover, 20% tax will be withheld from the distribution you receive.
Putting Us To Work
To open an account, you simply execute our agency agreement and deliver to us the investments or investable assets that you wish to place in our care.
You may set up either of the following types of accounts, depending on how involved you wish to be with specific investment decisions:
Investment Management Account. After meeting with you to discuss your goals and studying your circumstances and preferences, we develop an appropriate investment strategy for your approval. We then assume full responsibility for managing your portfolio. We buy and sell investments as necessary to carry out your strategy and report all transactions and other account activity to you.

Investment Advisory Account. Based on the same careful study of your needs and circumstances, we develop an appropriate investment strategy and submit proposed purchases and sales for your approval. We recommend; you decide.
Whether you opt for a management account or an advisory account, we attend to all investment details. You can rely on us to handle purchases and sales of securities, keep investment records, redeem called or matured bonds, and collect or reinvest or disburse your income.
Three Advantages
Our clients enjoy a number of advantages:
Objectivity - Unlike "transaction-based" investment consultants or financial planners, we charge a clearly stated annual fee for our services, linked to the market value of each client's account. Our clients know they can count on us for guidance that is objective. We have no financial stake in promoting any particular investments, nor do we have any reason to trade excessively and "churn" our clients' accounts.
Economy - In addition to benefiting from moderate management fees, our clients save money through deeply discounted transaction charges, thanks to our status as an institutional investor.
Broad capabilities - As our clients build their net worth, they can look to us for a wide range of additional services. Whether it's a matter of setting aside something in trusts for the grandchildren or developing a succession plan for a family business, our trust and estate specialists can help.
The Living Trust Option
Like a growing number of our investment clients, you may prefer to set up your account as a revocable living trust.
With a trust you can arrange for us to provide for full management of your personal finances in the event of serious illness and disability, eliminating the possible need for court proceedings. Trusts also offer well-known estate planning advantages, including greater privacy and a reduction in the delays and expenses associated with probate.
Choosing the revocable trust option does not tie up your money in any way. You remain free to change or cancel the trust whenever you wish.
Taking The Next Step
We believe we have a lot to offer: professionalism and objectivity, economy and personalized service.
Just as you should be comfortable with your investment strategy, you want to be sure you'll feel comfortable with the investment adviser you select. The best way to become better acquainted with our investment specialists, free of charge and without obligation, is to schedule an introductory meeting. We look forward to answering your questions and discussing your personal investment goals.
Investments not FDIC insured - May lose value - No bank guarantee