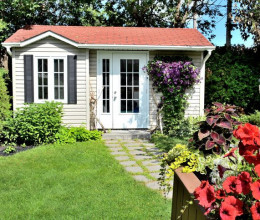 Accessory Dwelling Units (ADU) Grant Program
Are you adding a granny flat, in-law unit, backyard cottage, secondary unit, or other innovative, affordable, and effective option for added housing in California? If so, you may be eligible for financial assistance through the California Housing Finance Agency (CalHFA).
Summary
CalHFA is providing up to $40,000 grants toward pre-development and non-recurring closing costs associated with the construction of an Accessory Dwelling Unit (ADU). Predevelopment costs include site prep, architectural designs, permits, soil tests, impact fees, property survey, and energy reports.
First Northern Bank is one of only a handful of lenders that has been approved and trained to guide you through the ADU grant process. Eligible low-to-moderate income households should contact us today.
Income eligibility limits:
Sacramento County - $202,000
Solano County – $215,000
Placer County - $202,000
Yolo County – $211,000
El Dorado County - $202,000
Now's the time to rethink your homeownership journey and First Northern Bank can help. Give us a call at (800) 682-8648 or find a Mortgage Loan Officer.