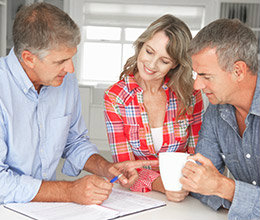 Private Client Services
First Northern Bank's specialized banking group caters specifically to meeting the financial needs of our most financially savvy customers and their families. We put our years of financial experience to work guiding and advising our clients, promoting personal client relationships rather than simply conducting banking transactions.
We assign a Private Banker to serve as your single point of contact. Your Private Banker is solely responsible for your complete satisfaction. After gaining an understanding of your needs, your Private Banker consults with our team of professionals to explore ideas that are best suited to help you achieve your long-term goals. Our clients benefit from the depth of these resources and the breadth of our capabilities.
If you're ready for a better banking experience, talk to us about our Private Client Services. You'll discover another reason why more and more people everyday are saying, "First Northern, that's my bank!"
Interested? Reach out to us to learn more.