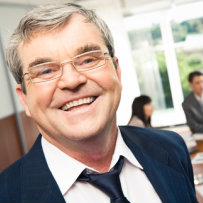 Business Retirement Account
Help your employees plan for the future while improving their benefits package by offering an SEP.
This individual retirement account plan is for sole proprietors, partnerships, and corporations, and allows employers to contribute toward several savings options for employees. It's a great way to make sure your valued employees know just how important they are.
Summary

Help employees plan for the future
Interest bearing account
You decide how much to contribute
Low administrative costs
Better benefits package
Possible tax advantages

More Information

The SEP may be used by any sole proprietor, partnership, or corporation. A sole proprietor with no employees may also have a SEP for himself or herself. In this case, the contribution is based on net income of the business, rather than gross income.