Business Mobile Banking
Our values of People First, Absolute Integrity and a Zest for Excellence drive us to seek creative solutions for our business clients by developing state-of-the-art products and services through our dedicated Innovation Team.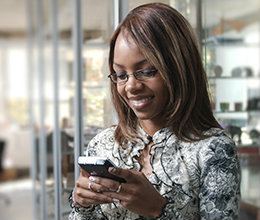 Business Mobile Banking
Access your business finances quickly and securely using your smartphone or tablet. With just a swipe or a tap, you have the ability to manage company funds from the office — or wherever you are. Traveling across the country for meetings? Your accounts are still right at your fingertips, 24/7.
Summary
Fast, free, and secure service for customers enrolled in online banking*
Easily keep track of your finances — even on the go:

View account balances and transaction history
Transfer funds between accounts
Find ATM & branch locations
Approve drafted online banking cash management transactions — display transactions by type, approve/reject transfers, ACH, and wires, and display individual details for batch transfer types

Features mobile deposit
Utilize this service three convenient ways:

Web browsing
App download
Text banking

Save valuable time and effort; avoid an extra trip to a branch
Get Started
Enrolled in online banking? Sign up for mobile banking by selecting "Mobile Banking" under "Other Services" in the menu bar at the top of the page.
Not enrolled in online banking? Get started today!
Mobile Deposit FAQs
Security
First Northern Bank's Mobile Banking service is an extension of the Bank's Online Banking service. When you login you will use the same security questions, PassMark, and phrases you are accustomed to in Online Banking. The First Northern Bank App uses SSL encryption to keep your information secure.
Interested? Reach out to us to learn more.
*Wireless carrier data rates may apply.