Payroll Services
Our values of People First, Absolute Integrity and a Zest for Excellence drive us to seek creative solutions for our business clients by developing state-of-the-art products and services through our dedicated Innovation Team.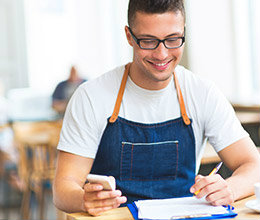 Payroll Services
Save your business time and money with payroll services from First Northern Bank. Our services range from ACH processing with us for our small business clients to a completely outsourced Human Capital Management (HCM) solution provided by PrimePay. We can work together to create the payroll plan that works best for your company's needs. It's a win-win for both you and your employees.
PrimePay, a HCM provider, offers you highly configurable HR and payroll solutions designed to create efficiencies and to maximize compliance, including through offerings of HR services, payroll & tax, workforce management, and multiple other services. PrimePay offers two comprehensive solutions, outlined below, with many options to further configure the service to the needs of your business.
Starter Bundle
A balanced solution with onboarding, payroll, and HR support.
Improve business efficiency by running payroll in just three simple steps. Plus, all your federal, state, and local payroll taxes are filed on your behalf.
Features:
Payroll your way with comprehensive federal, state, and local payroll tax services.
Check payment options (Paycards, direct deposit, live checks, etc.).
Unlimited online reports, and access to the report center which includes custom reporting options.
Online employee access to pay stubs, W-2s, etc.
Unlimited 24/7 HR and employment law advice from licensed employment attorneys.
Employee verification automation services.
Online new hire onboarding module which gathers key employee signatures on federal and company-specific documentation, and more.
Starter + Workforce Management Bundle
A solution that integrates workforce management tools to best meet your needs.
Everything in the Starter Bundle, plus
Online time and attendance software.
PTO accruals, balance tracking, time-off request, and manager approvals.
Employee and employer web and mobile access to timesheets, PTO balances, time-off requests.
Time tracking with geofencing.
FMLA/FLSA tracking and reporting.
Overtime insight and control.
Upgrades & Add-Ons
Choose among the following to add on to your bundle.
Worksite Compliance Bundles

HR & Business Legal Resources
Labor Law Posters

Workers' Compensation

Pay As You Go Options Available

Benefits Administration

Pre-Tax Health Accounts
COBRA
ERISA
Applicant Tracking & Onboarding
E-Verify & Background Checks
Get started by contacting Business Support Services at (916) 570-1244.
Self-Serve Payroll Solution
Are you a small business? Our self-service payroll only solution is perfect for small businesses that want to manage their own payroll internally until growth and compliance determine otherwise.
Learn more about self-service payroll solutions by contacting Business Support Services at (916) 570-1244.
Interested? Reach out to us to learn more.