Payroll Services
Our values of People First, Absolute Integrity and a Zest for Excellence drive us to seek creative solutions for our business clients by developing state-of-the-art products and services through our dedicated Innovation Team.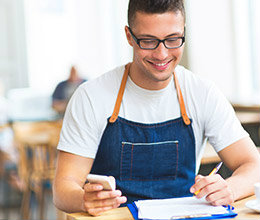 Payroll Services
Save your business time and money with payroll services from First Northern Bank. Our services range from in-house processing to a completely outsourced solution — so you can create the payroll plan that works best for your company's needs. It's a win-win for both your employees and you.
Full-Service Online
This service offers a full-service payroll solution you can access anywhere you have Internet. Simply log in to your online payroll account every pay period to enter payroll information — the rest is taken care of, including payroll taxes and paying your employees.
Ideal for businesses with 1 to 100 employees
It's the alternative to costly traditional payroll services
One-click technology
Ability to adjust employee hours and pay rates every pay period
Free direct deposits
Employee access to online pay stubs
Full-service federal, state and local tax payment and filing
Unlimited support from U.S.-based payroll experts
Automatic new hire reporting and access to labor law posters, business forms and HR how-to-guides
First Northern Bank has partnered with SurePayroll to offer this service to our business customers.
Full-Service Traditional
First Northern Bank has partnered with Paychex to bring you cost-effective payroll processing solutions tailored to your company's needs. Paychex provides a comprehensive suite of payroll, payroll tax, and employee pay services to businesses nationwide. Confidential, cost-effective payroll administration eliminates the tedious chore of payroll — before and after payday.
Contact Business Support Services at (707) 678-7785 for more information.
Electronic Deposits
This service is perfect for businesses that want to manage their own payroll internally without using a payroll service.
Using First Northern Bank's Business Online Banking, you can direct deposit payroll to employees' accounts, eliminating the time and costs associated with issuing paper checks.
Contact Business Support Services at (707) 678-7785 for more information.
Interested? Reach out to us to learn more.