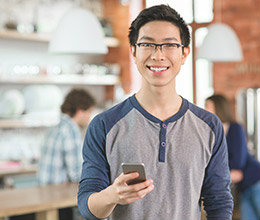 CardValet
Control debit card usage and on-the-go spending through your smartphone! CardValet is an app that lets you keep a close eye on your debit card usage. Set dollar limits for yourself to keep your spending in check, and even shut off your card if you find that it is lost or stolen.
Benefits of CardValet
Fraud Protection
Turn your debit card on and off using your mobile device
When your card is "off", no withdrawals or purchases will be approved
Real-time alerts keep you informed when your card is used or declined
Transaction controls allow your card to work only in specific locations or geographic areas
Control Spending
Set spending limits for general use or specify thresholds by merchant types, such as gas, groceries or retail stores
Establish controls by location and change parameters via your mobile device
Review Balances and Transactions
Monitor your finances anytime, anywhere by using the CardValet app to check account balances or review recent card transactions
Business Use
Use transaction controls for merchant codes, locations and thresholds to ensure employee spending adheres to company policy
Turn your employees' debit cards on and off in real time
Getting Started
Download the CardValet app:

Quick-Start Reference Guide
Once you've downloaded the app, use this reference guide to walk you through the easy set-up steps.
CardValet Tips
CardValet has tremendous flexibility for setting up transaction controls and alerts for your First Northern Bank Debit Card! However, do keep in mind that the more complex your settings are in CardValet, the more chance there is for unexpected results that can be difficult to figure out. As with most things, simple is often better!
Here are a few suggestions for using CardValet:

The simplest way to set up Alerts is to alert on "All Transactions." Why not? With this setting, you will be quickly made aware of any unexpected activity on the debit cards that you monitor. Also, should you experience a transaction denial, you can quickly see the reason for the denial and adjust, as needed.
The simplest transaction Control available in CardValet is the "On/Off" control. You can turn your debit card On as you approach the checkout or start an online purchase, and then turn it Off immediately after the transaction is completed. All transactions will be denied while your debit card is Off, so if you use your debit card for automatic or recurring transactions use this control with caution.
Another simple way to control debit card transactions is with the "My Location" option under the "Location" control preference. This control compares the GPS location of the mobile device you tied to CardValet to the location the transaction is coming from. If the device is in the same general location as the transaction location, the transaction is allowed. Mismatches are denied. Obviously, this control is dependent on both GPS and cell connectivity of the device. Also, there may be situations where the location specified with the transaction is a corporate location and does not match the physical location. Blue-ray or DVD kiosks are an example where this may occur.
Do you think a more complex combination of controls may be right for you? As a best practice, set up those same settings in the Alerts Preferences before setting them up as Control Preferences. Use your debit card for up to a month and review the alerts received for your normal transactions. These will correspond with the transactions that would be denied if the same Control settings were in place.
Additional recommendations for International Travelers:
Consider the impact of mobile device reception in foreign countries. Your CardValet settings will remain in effect whether or not your device has reception. Lack of reception could lead to unexpected transaction denials if you have Location Control Preferences in place.
First Northern Bank has other debit card fraud controls in place to protect your accounts, which override CardValet controls. It is always a good idea to contact First Northern prior to your travel date, so that we can determine if other adjustments are appropriate to minimize the chance of transaction denials during your trip.
Interested? Reach out to us to learn more.