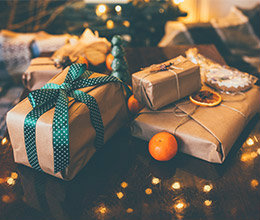 Holiday Club Savings Account
Make every holiday season unforgettable with our Holiday Club Savings account. Say goodbye to holiday-related financial stress and hello to effortless planning. This specialized account lets you save throughout the year for all your festive needs and automatically deposits your funds when the holiday magic arrives.
Summary
Set aside little by little, year-round for holiday-related expenses
Attractive interest on entire balance
No monthly maintenance fee
Avoid holiday-induced debt and stress
Funds automatically released via $10 cashier's check or free direct deposit to a First Northern Bank account — funds are released on November 1st
Early withdrawal will result in a penalty*
Online Banking, Text Banking, and our mobile app
Free eStatements
Direct deposit available
No minimum deposit to open
Interested? Reach out to us to learn more.
*Interest is forfeited if balance is withdrawn prior to maturity, no partial withdrawals allowed.