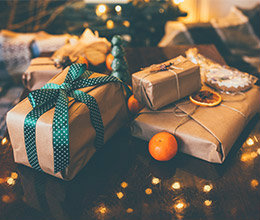 Holiday Club Savings Account
Don't let the holiday season sneak up on you. A holiday club savings account lets you set aside money throughout the year, so you have the funds you need to make the holiday season one to remember. Plus, you'll earn attractive interest. Deposits can be made automatically through monthly, bi-monthly, or weekly transfers from a designated First Northern Bank checking account.
Summary
Set aside little by little, year-round for holiday-related expenses
Attractive interest on entire balance
No monthly service charge
Avoid holiday-induced debt and stress
Funds automatically released via $10 cashier's check or free direct deposit to a First Northern Bank account — funds are released on October 31st
Early withdrawal will result in a penalty*
Free online banking
Free eStatements
Direct deposit available
No minimum deposit to open
Interested? Reach out to us to learn more.
*Interest is forfeited if balance is withdrawn prior to maturity, no partial withdrawals allowed.