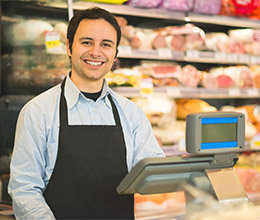 Simply Business Checking
Take advantage of having lower transaction volumes with an account designed specifically for smaller businesses. Enjoy checking at no cost, plus free online services, like mobile banking, that make it easy to manage your capital — without having to leave the office during a busy workday.
Summary
Why First Northern Bank
We're glad you asked! Discover why more and more people are saying, "First Northern, that's my bank!" by visiting our About Us page.
Interested? Reach out to us to learn more.
*Customer purchases checks. Other fees such as NSF, overdraft, ATM fees, etc. may apply. Request Schedule of Fees and Charges for details.
**Items include checks paid, checks deposited, deposit tickets, ACH deposits, and credits. Account will be converted to Commercial Checking if transaction items or currency limits are exceeded.