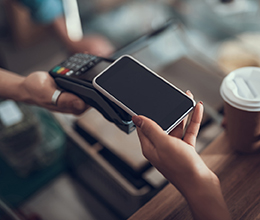 Mobile Wallet
A mobile wallet is an app on your mobile device that uses your First Northern Bank Debit and Credit Card payment information, so you can conveniently make purchases in stores, in apps, and online. Plus, a mobile wallet allows you to send money to family or friends by text. And, transactions using your digital wallet are secure, contactless and often faster – spending less time during checkout.
Setting up your mobile wallet
Adding your personal or small business First Northern Bank debit or credit card is easy! Select your preferred mobile wallet below to learn more about designating your First Northern Bank card as your default card, obtaining information about the card verification process, or to simply get started.
Privacy and security
Mobile wallets use heavy encryption to protect all card and banking details. Your card isn't stored on your device and your card numbers are never shared with merchants.
There's no time like the present to get started!