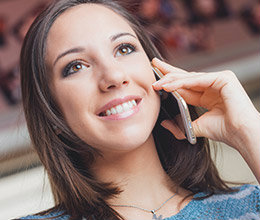 Telephone Banking (TeleBank)
Stay on top of your finances with TeleBank, our telephone banking system. All you need is a touch-tone phone to access and manage your accounts from anywhere in the United States anytime, toll-free. It's just another way we're providing you with the most convenient banking experience possible.
Summary
Fast, free, simple convenience for First Northern Bank customers
Access to your bank only a phone call away
Perfect for times when a computer or branch isn't nearby
Access account information 24/7 via any touchtone phone (including your cell phone):

Calculate or make a loan payment
Check account balances
See if checks have cleared
Transfer funds between accounts
Receive a fax of your checking or savings account activity
Apply for a personal loan
And more!
Call TeleBank: 1-800-818-24HR from anywhere in the U.S. From Dixon, please call 678-4489.
Get Started
Two simple steps make getting started with TeleBank quick and easy!
Step 1: Call or come in to any of our branches and ask to have your TeleBank access activated. Within minutes you'll have your TeleBank Personal Identification Number (PIN).
Step 2: Call (800) 818-24HR, or 678-4489 from Dixon, and immediately begin to use TeleBank! Before you place your call, have your account numbers ready.
Interested? Reach out to us to learn more.