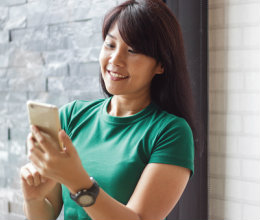 Text Banking
Text Banking allows you to manage your accounts on the go. Once enrolled, you can check balances, review account history, and transfer funds using any text-enabled device.
How to enroll
Log in to Online Banking:
Click Text Enrollment in the Other Services tab.
Toggle the Text Enrollment switch from "Off" to "On."
Enter your SMS text number.
Read the terms and conditions and check the box next to "Agree to Terms."
Click the Save button when you are finished.
Click the Visit Preferences button to be taken to the Accounts feature.
Select an account you want to enroll in Text Banking.
Click the SMS/Text tab.
(Optional) Click the edit icon to change the SMS/Text Display Name. Make your changes and click the checkmark to save it.
Note: Once you've signed up for Text Banking you should receive a text confirmation.
List of Commands for Text Banking
Text Command Options to 226563 for the following information:
BAL or BAL <account nickname>

Request account balance

HIST <account nickname>

Request account history

XFER <account nickname>
<to account nickname> <amount>

Transfer funds between accounts

LIST

Receive a list of keywords

HELP

Receive a list of contact points for information on Text Banking

STOP

Stop all text messages to the mobile device for Text Banking and SMS alerts/notifications

START

Enable message send/receive for Text Banking
There's no time like the present to get started!