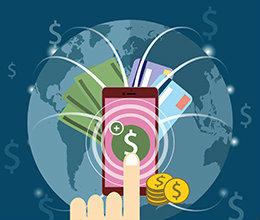 FAQs: Same-Day Payments
In an effort to improve and modernize the U.S. payments system, you may have already noticed a change in the times during the day that we apply electronic Direct Deposits to your account. This change was made to help provide you with faster access to funds for same-day Direct Deposits to your account. Beginning Friday, September 15, 2017, we will also change the times that we apply certain electronic debit payments* to your account.
*Electronic debit payments are also referred to as Direct Payments, Direct Debit, ACH Debit, Electronic Check or e-Check. They are different from your debit card payments and ATM transactions.
Frequently Asked Questions
What are same-day ACH payments? As our financial lives move faster than ever before, customers have come to expect faster payments. The financial services industry has been working to modernize the deposit and payment systems to keep up with these expectations. Same-day electronic payments simply make it possible for payments to post to your account the same day they are made.
Why do I need same-day electronic payments? Many merchants and billing companies may offer you the option to make same-day electronic payments to pay bills or to transfer funds. This convenience provides another convenient payment option for last-minute payments.
When will same-day electronic payments be reflected in my account balance? While same-day electronic payments won't be reflected in your account balance as quickly as debit card and ATM transactions, you will have access to more accurate information about your actual available account balance more frequently throughout the day. Please note: You should always have sufficient funds in your account to cover every payment you make, authorize or initiate.
How can I stay on top of my current balance? With money potentially moving out of your account quicker than before, you'll want to check your balance frequently to make sure funds are available. Just remember [email protected]... Try to get in the habit of checking your account balance at 5pm everyday, which will help you stay ahead of any surprises.
How will same-day electronic payments affect my established pre-authorized payments (bill-pay)? Your recurring payments, such as your mortgage, will likely experience no change in the time these payments are posted to your account. They will continue to be processed normally as designated by the transaction effective date.