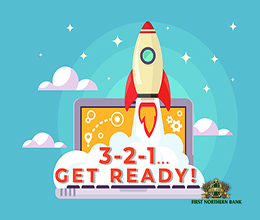 New Digital Banking
Published: January 23, 2020
3-2-1... Get Ready! We're excited to announce that we are launching an all new online banking experience! Banking anytime, anywhere, from any device has never been easier.
New modern look and feel
Streamlined workflows
Added functionality
And more!


But you can't blast off until you confirm that your current contact information is accurate. Without correct contact information, you will not be able to access the new system.

Login to online banking today and review the contact information we have for you under Other Services/Change of Address. If everything is correct, no action is needed on your part. If something has changed, you simply need to update it and submit the changes.

If you have questions in the meantime, feel free to contact us — we're here to help (877) 362-6000.
View all posts