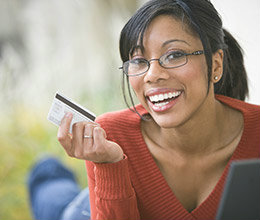 Benefits Checking
Introducing a value-added checking account unlike any other. If you've been searching for an account with more – more perks, more coverage, and more peace of mind – look no further. Benefits Checking offers the same ease of use, account features, and superior service you've come to expect, plus extraordinary value for just $6.95 per month.
Cell Phone Protection

$600 Coverage per Claim - $1,200 Annual Limit
First 5 Lines Listed on Cell Phone Bill Covered
Must Pay Cellular Phone Bill with Your Eligible Account

Identity Theft Resolution

A personal advocate who works with you one-on-one, start to finish to restore your identity
Includes immediate household family members
A full year of weekly credit monitoring from TrueCredit (a TransUnion company)
A full year of myFICO Identity Theft Security fraud monitoring, for victims of true identity theft, where available

Roadside Assistance

Lockout Service, Emergency Tire Service, Emergency Delivery, Battery Service, Roadside Services, and Emergency Towing
Theft Hit and Run Protection
Up to 3 Claims per Year

$10,000 Accidental Death Insurance

Paralysis Benefit
Rehabilitation Benefit
Bereavement and Trauma Counseling

Shopping, Travel & Entertainment Discounts

Best in Class Discounts
Retail & Restaurant Savings
Grocery Coupons
Big Savings on Attractions and Hotels
Not the right fit? Compare checking accounts offered at First Northern Bank.
---
Important contact information to access your benefits

Cell Phone Protection: (800) 899-7175
Roadside Assistance: (844) 895-7779
CyberScout ID Theft Resolution: (866) 602-2056
Accidental Death & Dismemberment: (800) 899-7175
Shopping, Travel & Entertainment Discounts: www.benefitschecking.com
You're just a few clicks away — get started!
Minimum opening deposit is $50. Eligibility and restrictions apply. Primary account holder is automatically enrolled in Cell Phone Protection, ID Theft Resolution, Roadside Assistance, and $10,000 AD&D Insurance coverage. Shopping, dining, and travel discounts are not automatic. Customer must self-enroll for these discounts as instructed in account opening documents in order to qualify. Customer must pay their cell phone bill through their First Northern Bank Benefits Checking account in order to receive Cell Phone Protection benefits. Benefits are not claimed directly through First Northern Bank. Instructions for claiming these benefits are provided at account opening, and must be claimed through a third-party. Please ask for detailed benefits disclosures. $10,000 AD&D Insurance coverage is offered by Chubb and underwritten by ACE American Insurance Company and provided at no additional charge. First Northern Bank is not a broker/dealer and is independent of Chubb. Total coverage splits evenly among all authorized signers as indicated on the account opening signature cards.