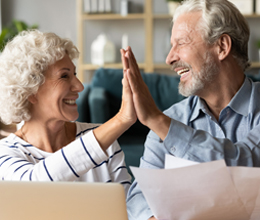 No Lender Fees Promotion
Summary
No lender fees. No kidding!
If you're in the market to buy or refinance your first or forever home, First Northern Bank has an offer that'll get you moving! Not only will your First Northern Bank home loan feature a fantastic rate and personalized service, it'll also have no lender fees – for a limited time!* Now you'll love your home and your home loan.
First Northern Bank has more than 100 home loan programs. Talk to one of our local specialists to find the perfect fit for your financial future.
Plus, First Northern Bank is the only community bank with a local mortgage division. So, you'll benefit with local underwriting, local decision making, local processing, and your payments stay local.
Choose a bank you can trust!
*First Northern Bank origination costs waived. Third-party fees apply. Excludes FHA, VA, and refinance of an existing First Northern Bank loan. Refinancing to a lower payment may extend the number of monthly payments and/or total amount paid when compared to your current situation. Cannot be combined with any other offers. Offer expires 12/19/2021. Ask us about our wide variety of refinance and purchase mortgage loans available under different terms See First Northern Bank for details and other restrictions.